---
Esty Lupin, Florida
I honestly think that joining your challah group last summer brought a lot of brocha into my home. I had never baked prior to moving here, and was SO glad to be a part of something like that. Often it's these small acts of kindness that add layers of bricks to the Beis Hamikdosh!
---
Avital Mintz
I have been baking challah since seminary, and it is one of my favorite thursday night activities since I got married. This year, my husband and I were blessed with our first son, and the thursday night before he was born, I separated challah with your group, also davening for a smooth delivery, which I was very nervous about. My contractions began the following shabbos early in the morning, while I watched my shabbos candles finish burning out we headed to the hospital. The only food we took with us to the hospital was my home made challah. My husband made kiddush and Hamotzi (on the challah I made) around 11:30 am in my delivery room, and within an hour I had an extremely smooth delivery bH. The first food I put in my mouth was this challah. The following Shabbos we had both our families in for our son's bris, and there was enough challah leftfor all of our entire family. The taste and tefilah of baking challah will always remind me of that miracle shabbos where Hashem answered my tefilos.
back to top
---
Ayelet May
My story on how I got into baking:
I failed at every baking attempt for many years. Shopping for my first Shabbat at home in Palm Beach, I was delighted to find that the local Publix sold beautiful challahs. As I was setting the table on Friday afternoon, I realized the challah had no hechsher!! Who ever heard of unkosher challah?! (Forgive me. I grew up in Brooklyn.) Thankfully, I located some frozen Kineret loaves in the freezer section. Of course there was no time for the hours of rising required, so my guests (including the synagogue president – groan) were treated to two small, hard challah loaves and some emergency matzah. Since buying challah required a forty-five minute drive, I decided it was time to nail down the baking thing for good. After a year baking every Friday with my preschool class, I was baking the most delicious challah ever. And ever since, I can hardly stomach the taste of store-bought challah.
back to top
---
Mimi Furst
Although we are "empty nesters", I bake challas very often. Since most of the challa is "extra", I've found very useful ways of using it. I take small challas to the local nursing/rehab home and distribute them erev Shabbos. My recipients love the challas, love the gift of the challa, and most importantly, they are reminded of Shabbos!
For me personally, every time we get good news from our challah group, it infuses me to partake and share in this monumental show of Ahava and Achdus (Love and Unity), and the miracles that we are privileged to be a part of.
back to top
---
Morah Ruchie
I have always loved homemade challah but never thought I would be successful. I tried when I was 9 months pregnant with my first baby. It came out ok but not impressive!
Many years later, my husband asked me to deliver something to his Rav. When the Rebetzein opened the door it smelled heavenly!! A "real Shabbat is coming" aroma. Well I got in the car drove to the grocery and bought all the ingredients necessary to bake Challah, I was determined to try again.
I baked with a big smile and asked Hashem to give my dough a Bracha (blessing).
My challah came out good, but still not great. I continued week after week each Friday still buying challah just to make sure we have "Good" challah.
One Friday, my kids asked me to please not buy Challah anymore. They said my challah is the best and they don't really understand why I keep buying store bought Challah.
I realized then that that was the nicest compliment, and I stopped buying challah all together.
I bake by hand, and while I'm kneading, I talk to Hashem, it is the best time of the week for me. I thank Hashem for all we have, and I ask for help. I cry. I smile. I just really feel that Hashem is listening.
BH I feel my dough is blessed.
back to top
---
Varda Gewirtz
As you may know, I have been providing challah as a home business to my small community in Harrisburg, PA since 1993. I am attaching my recipe which I share wholeheartedly because I love when people bake their own challah. I am enclosing a picture of challah that I baked with a picture of my great-grandparents in the background. I am named after my great-grandmother who perished in the holocaust. When I bake challah as my Bubbie Reizel did, I feel that I am continuing the precious chain of our holy nation.
Kol tuv.
back to top
Message from the aunt of the 13th Challah baby
Dear Miriam, it is with great gratitude to Hashem that I am writing this email to you. BH my brother and sister in law Yehonatan Yitzchak ben Irit and Efrat Bat Shoshana just gave birth, after 5 long years of painful waiting, to their first beautiful baby boy. Thank you to ALL the ladies that prayed and helped bring this miracle down to this world! May we always help each other and share only Simchas.
Yours truly,
KG
---
I just wanted to tell you something amazing! You can share this with who ever you want. This past Thursday night I made challah. About 6:00 pm I made the bracha. I separated the challah into 5 sections and then about 2 -3 minutes later. I got that phone call which every mother dreads to receive. Your son fell off his bike, this is hatzolah, he is okay but I need you here " right away, we are coming to get you please wait outside". I knew it didn't sound good. They came to pick up my husband and I with flashing lights and sirens. They drove us to the sight of the accident Ocean avenue and avenue k. My son did not fall off his bike. He was hit by a car while riding his bike, he was rushed to the hospital. We were met in the emergency by 8 - 10 doctors and nurses. They set him as a level 1- life threatening. Bh chasdei hashem. After sonograms and catscans he was clear. We went home the next morning with a small scratch on his head and a bruised foot. Chasdei hashem. If one looks at the english of the bracha of challah you will understand how this nes happened. The mitzvah of challah that Thursday night saved my son's life as it says in the bracha "may the spiritual influence of the mitzvah of challah enable our childen to be constantly sustained by the hands of hashem, with his abundant mercy, loving kindness and love......so may your compassion be aroused to keep me from sorrow and pain always" . I wish I knew exactly where my son was at the moment I was saying the bracha - was he just approaching the corner of Ocean avenue and avenue K? But without a question Hashem answered my tefilah and B"h my son is alive and well and benched gomel on shabbos! This should be an encouragement for ladies to continue baking challah and for more to join! What more could I say .....Thank You hashem for the gift of my son this past Thursday night!
back to top
---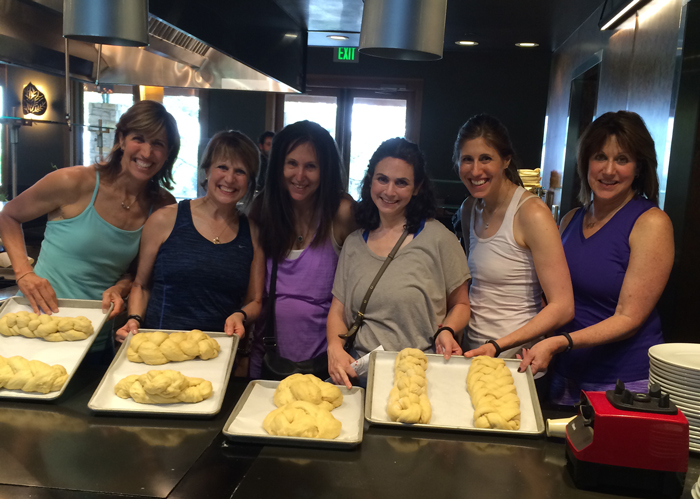 Thank you to all the bakers for helping us by baking and making hafrashat challah and praying for our niece and nephew. We are very inspired and grateful.
---
Challah Baking Story:
It is simple. It was "Beshert"!  Some things don't need more of an explanation than that and challah baking is one of them. I was the youngest of 4 in my family (3 sisters and one brother) and when I left for col2lege, my mother found out that she was pregnant with my youngest sister (My mom was 48 years old and there would be a 19 year age difference between my sister and myself).  My baby sister was born nine months later and she was "Beshert" – truly a gift from Hashem! 
Thirty years later, this sister is having difficulty getting pregnant (obviously she did not take after my mother!).  My oldest sister called me and shared that she had been asked to bake challah for several women who could not get pregnant and they all had babies. She urged me to find a "challah baking group" so that we could pray for our sister. 
I had recently joined Boca Raton Synagogue and e-mailed the Rabbi my story. He responded immediately and put me in touch with one of the most spiritual, amazing women I have ever met!  Miriam called me that day and couldn't believe that I was looking for a "challah baking group". Coincidently, she had organized a group for the VERY FIRST TIME the week before to bake for a young woman in the community who was diagnosed with breast cancer. One can only believe that this was "Beshert"!  We dedicated our challah baking for the second week to my sister and Ella Rose Friedman was born on February 11, 2011!!! Jacob Saul Friedman, Ella's brother, was born on December 21, 2012.  Needless to say, we believe and we have been baking ever since!
I bake challah almost every single week and if I am unable to bake, I honestly feel a void. I used to knead my challah with a machine but I now knead my dough by hand as I recite the names of all the people who need prayers.  Challah baking empowers me – it gives me a purpose when I feel helpless. It has enriched my life and I know that everyone who participates must feel the same way. We women are very powerful and together, we DO make a difference!!!!
back to top
---
Our 10th "Challah Baby" is conceived
I have an amazing story to share with you. The couple we baked challah for are expecting!!!! B"H. They were going to a top fertility dr, after over a year of frustration trying to conceive, and the dr told her she had two huge cysts and won't be able to go on treatments for at least two months till after the cysts go away. She asked if there was any chance whatsoever that the cysts would go away sooner and the dr said "Impossible!!! Come back in two months, and until then, dont even think about any of this. Just relax."
Hashem had different plans. One huge cyst totally disappeared three weeks later, and the second cyst shrank to a tiny size. The doctor said this is VERY rare and was shocked to see the cyst go away so quickly. The doctor said to still wait another few weeks for the other cyst to go away. When the couple went back to attempt to begin treatment and see what's going on, she found out that day that she was a month pregnant!!!! Baruch HaShem another miracle!!! Thank you so much for davening for them. May we hear of many more besoros tovos !!!
D.E.
---
After many years of waiting this morning (06/18/2013) a beautiful baby boy was born to my sister Golda Rivka bat Yacha Breina and Menachem Mendel Ben Rut. Thank you for baking for her and Davening weekly, we have no doubt that it went straight to Hashem!
DK, Boca Raton Florida (proud aunt of "challah baby" #9)
back to top
---
I work at a Jewish day school. Recently a teacher asked me to pray for her to get pregnant. I immediately contacted my friend who runs this Challah Group. 40 women baked Challot while davening for her. Within a few months, after much difficulty, this teacher became pregnant! Although this teacher was not religious she recognized the power of prayer.
LS – Boca Raton Florida
---
If you have a success story that you want to tell us, please write us an email to contact@aneini.org.
back to top